Sustainability
Mangarara Eco Lodge and education centre is set on 1507 acres of pure New Zealand farmland, on the edge of lake Horse Shoe and native regenerative bush.
The perfect location to relax in after exploring Hawkes Bay's art deco heritage, wine tasting and extensive cycling trails.
A luxury New Zealand retreat near the rural village of Elsthorpe in Central Hawke's Bay, Mangarara Eco Lodge is a destination in its own right. Set in front of a bird sanctuary on Horse Shoe Lake amongst an operational sheep and cattle farm. The lodge and education centre was built as part of a larger regenerative vision to build a sustainable future in tune with nature for our next generations. Whether you are looking for privacy and tranquility with family and friends, a place to team build, a wedding or other event, Mangarara Eco Lodge has been developed to meet your needs.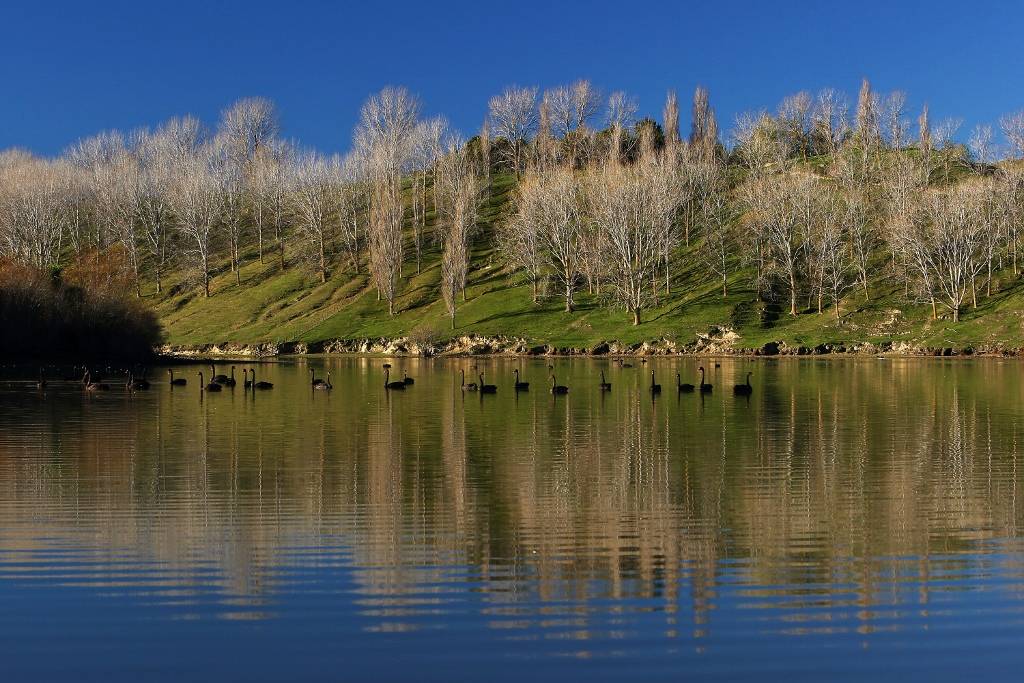 The Mangarara Eco Lodge Environmental and Educational Ethos
Like the rapid changes happening on our planet, the farm is transitioning to be a farm of the future, restoring balance by developing diverse integrated regenerative farming systems, and co-creating ecosystems through tree planting programs, our eco-lodge accommodation and education centre, and also opening the farm to the public to enable others to reconnect to the earth that sustains us.
Every day we choose our future. How we grow our food is the key to the health of our environment the health of bio diversity and of course the health of people and ultimately the health of society. So producing healthy food from healthy soil is our primary focus as the food choices we make every day are in fact votes for the kind of world we will leave for our children. Making wise choices and being part of positive change, growing healthy food and caring for the environment is very empowering and enables us to take back the power we have lost to corporate and political greed.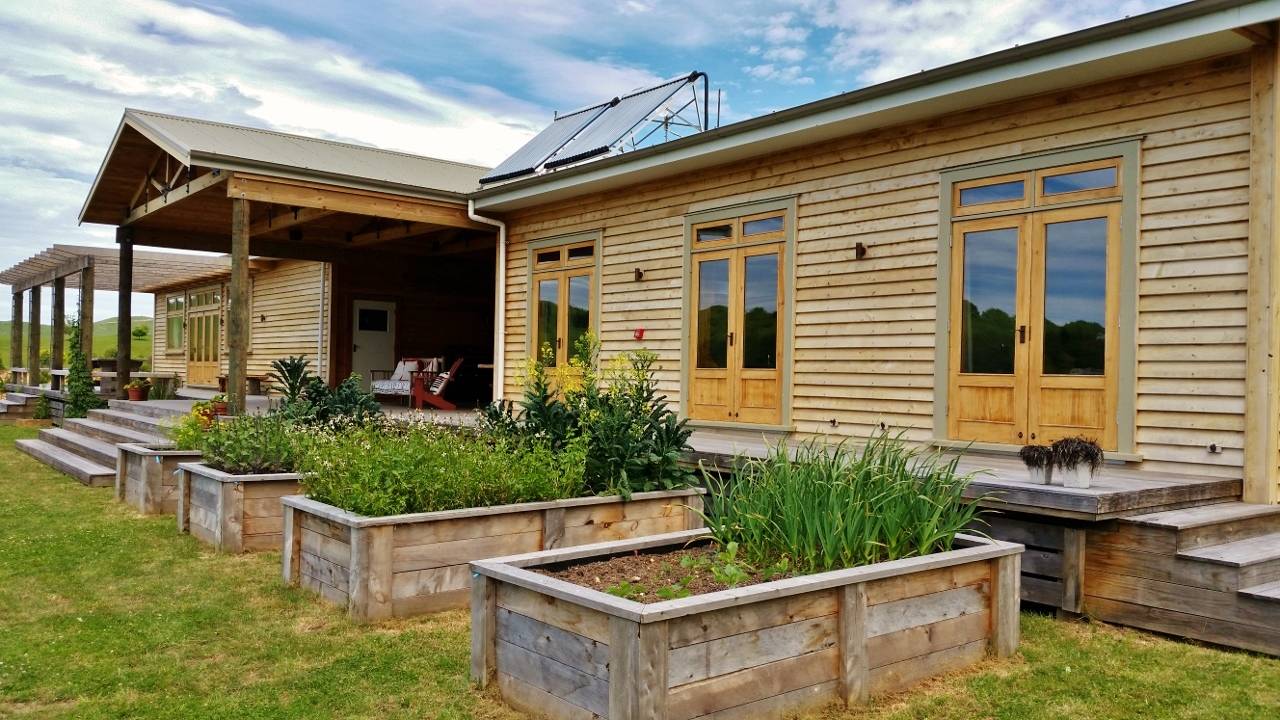 Building the lodge sustainably
The building is two ex classrooms from a local high school and has been retro-fitted using local and natural materials, such as earth
plaster and macrocarpa all grown and milled on the farm.
The Lodge is equipped with all the modern kitchen appliances, sky TV, WI-FI and stereo, plus some greener technology as well.
The wood fired boiler heats hot water in an instant and the solar panels keep this topped up. This also heats the radiators throughout the building keeping is toasty in every season.
The fireplace is an attractive central point in the living area and the expansive double glazed windows ensures the building remains cool in the summer and warm in the winter, as well as optimising those incredible views.
The macrocarpa used throughout the Lodge has been grown and milled on Mangarara.
We chose to Purely Dorset duvet inners as the wool comes from a friends farm just down the road. These together with the beautiful bright Exquisite Wool Blankets your bed will be eco luxury!
All our furnishings are either from local businesses or upcycled treasures such as the old wooden school desks in the bedrooms and lounge.
The bathroom tiling is from New Zealand company Middle Earth Tiles. And the Natural Flow waste water and sewerage system feeds the worms.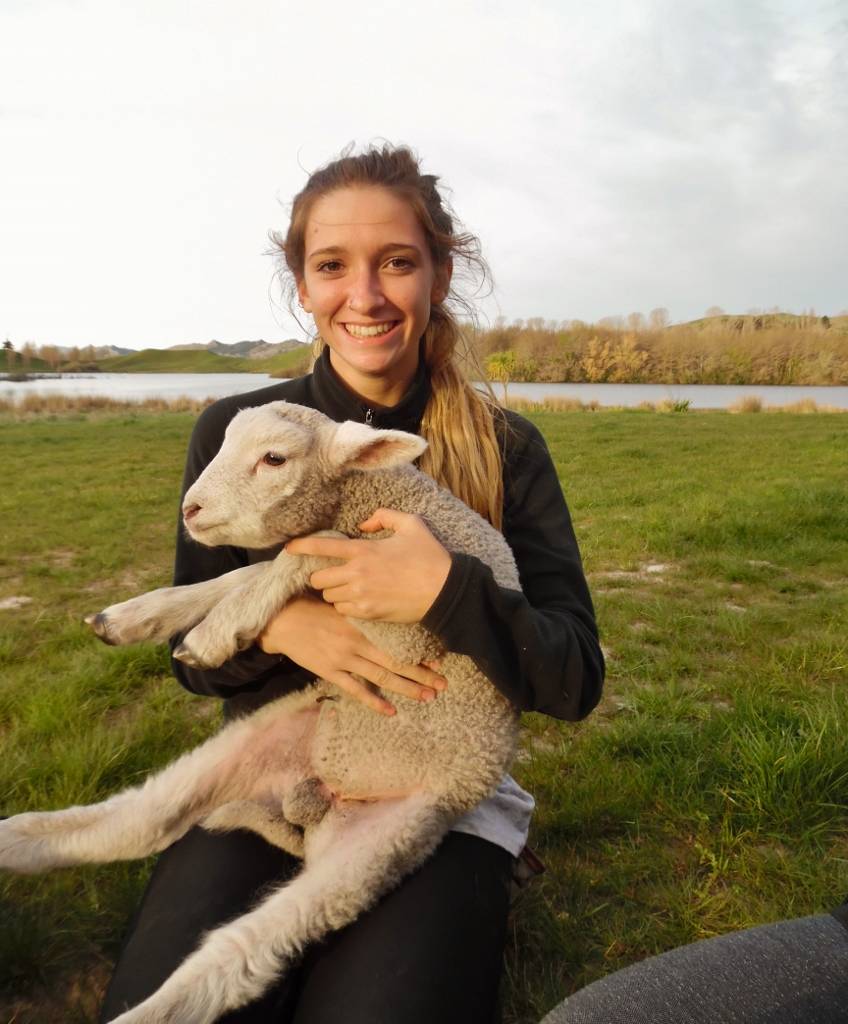 What our previous guests have said
Serene, peaceful and one of a kind, a truly amazing place to stay and visit... Our stay at Mangarara Eco Lodge & Education Centre was exceptional. The
Andrew, New Zealand
WOW!! Mangarara Eco Lodge and Farm is absolute Paradise. Rachel and Greg go above and beyond to make your stay even more wonderful. Fantastic hosts. Thank you
Nigel & Wendy, Hawkes Bay, New Zealand
I've been to Disneyland twice, but the farm is better.
Willa, Wellington, New Zealand
READ MORE REVIEWS